Welcome Dead or Alive!
Welcome to Philip Ryan's Pub, officially the oldest running pub in the town of Nenagh in County Tipperary, Ireland!

Among the many to frequent our establishment from time to time are some of Tipperary's greatest characters and none more than the legendary musician and songwriter Shane McGowan. In 2001 the legendary Joe Strummer joined Shane and Philly in our pub, (pictured on left) and both left autographed messages to accompany this photo of one of the greatest nights in our pub's long and illustrious history.

All types of parties are catered for, music and finger-food can be provided and private meeting room is available.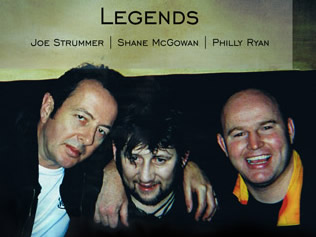 Tom Kenneally will be happy to look after your needs. You can contact Big Tom on 067 31350.

Have a look at our photo gallery section to see pictures of the great man enjoying a pint in our historic premises.